Community
Tramsheds Uncovered
TRAMSHEDS UNCOVERED
Tramsheds' new Augmented Reality Application 'Tramsheds Uncovered' launched on the 27th of March during Art Month, and is available for download on Apple Store and Google Play.
Tramsheds Uncovered has two exciting layers to experience, both in which will continue to grow and expand with new experiences to be revealed along the way.
LAYER 1: RELIVE THE ART
Learn about Tramshed's colourful history as a place of inspiration for creative minds and artistic expression. After downloading Tramsheds Uncovered, wander the precinct with your smart device and be transported back to the early 2000s when the sheds were an abandoned access point for budding artists. Bring to life the art that once adorned our heritage walls through AR and help us uncover the artists that once called Tramsheds home by sharing the artworks and your experience #TramshedsUncovered on Instagram. As each artist is uncovered, their stories will be loaded into the application for all to read and appreciate, upon touch.
Simply find the colourful shapes hidden in plain sight around the precinct and use the Relive The Art layer to unveil the original works.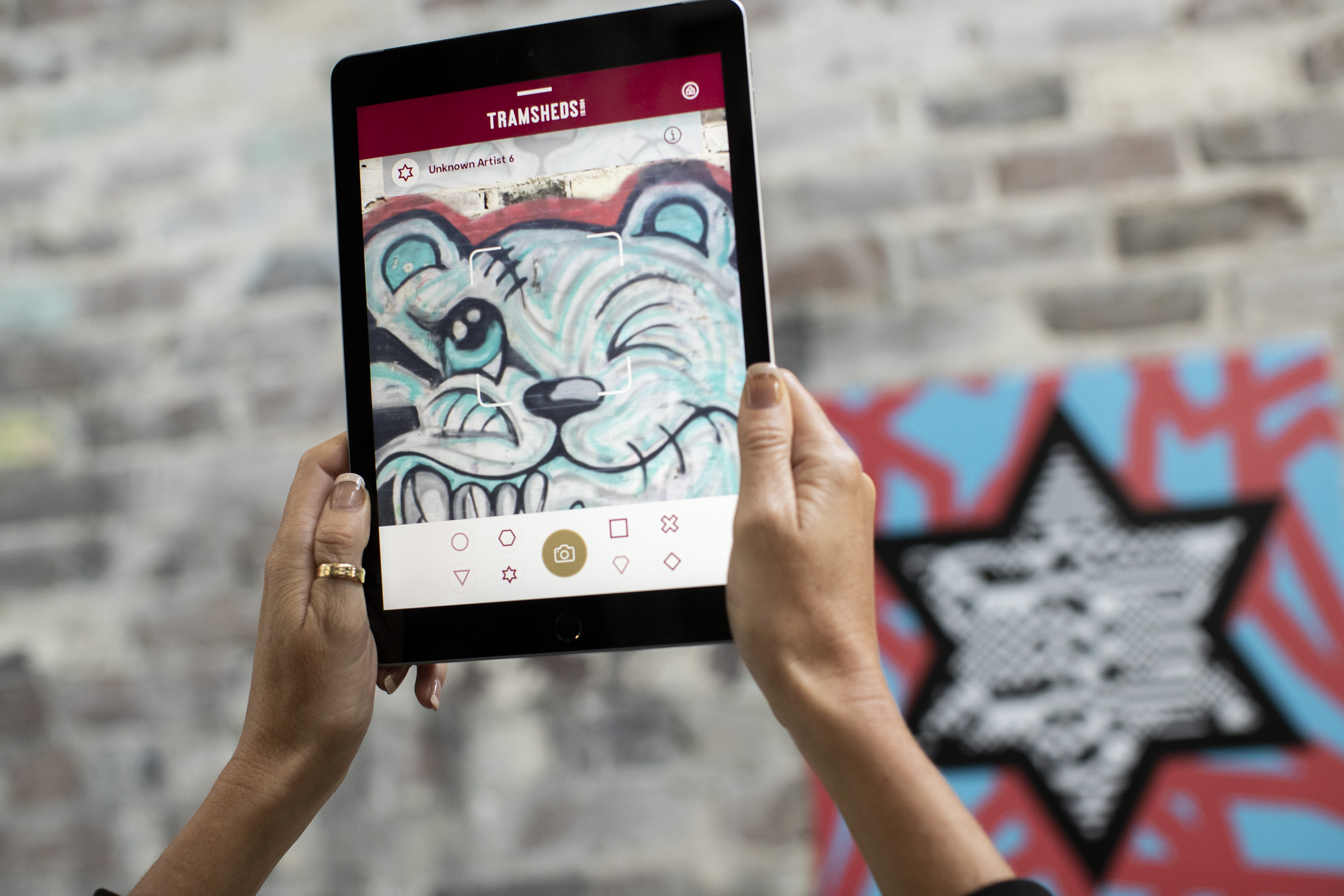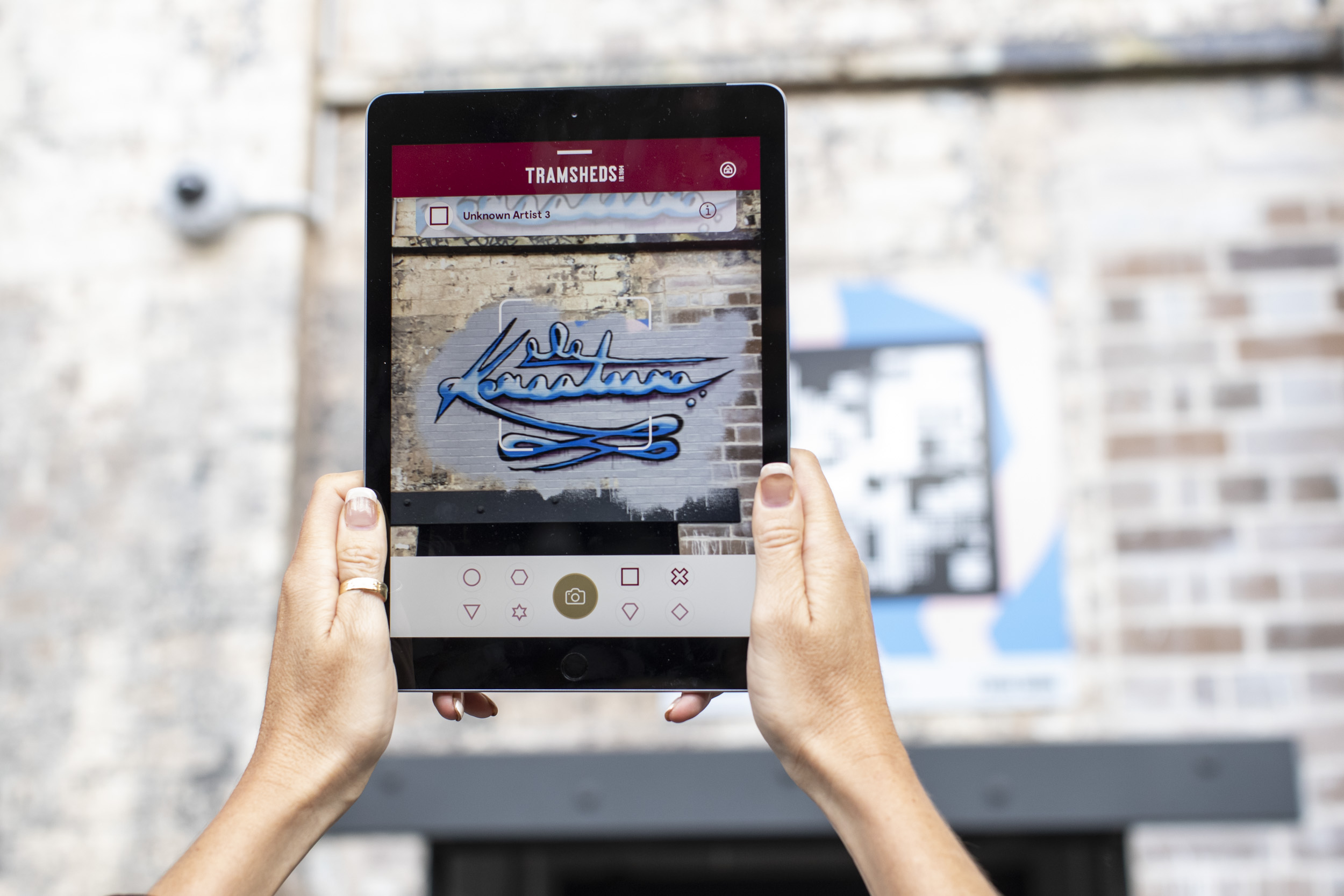 LAYER 2: DISCOVER TODAY
Explore the precinct in real time as Tramsheds has evolved into one of Sydney's most loved lifestyle and dining precincts. We proudly house legendary characters such as Bodega 1904, Flour Eggs Water, Butcher and The Farmer, Belles Hot Chicken and many more. Let the AR experience guide you through the space. As you scan the vendor's square QR Codes, you will learn about the operators, chefs, menus and art of culinary excellence, all through your smart phone. By scanning the circular floor decal codes, you will be guided around the precinct, discover a new twist at every turn!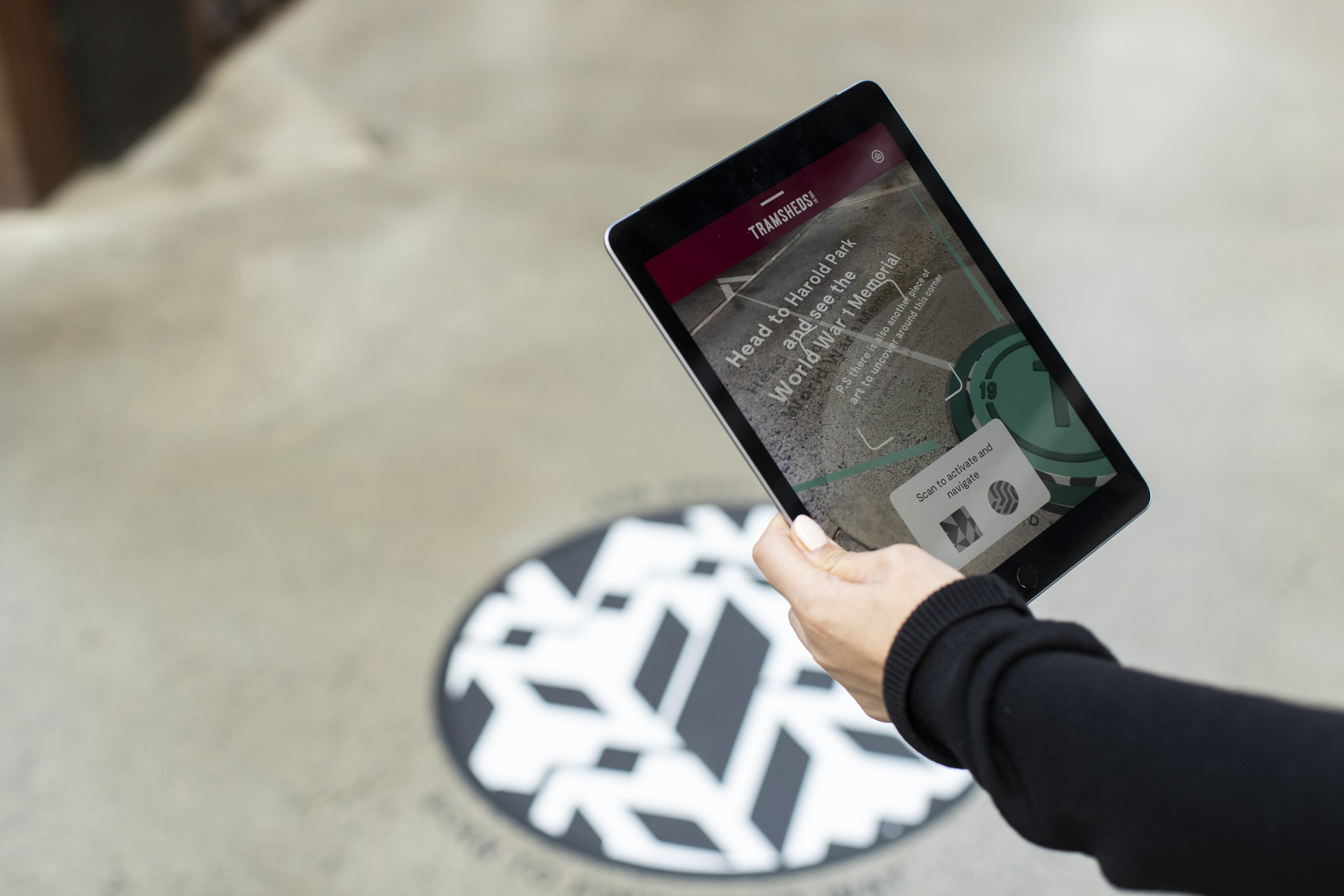 ---
ARTISTS UNCOVERED
'Mong' aka Jake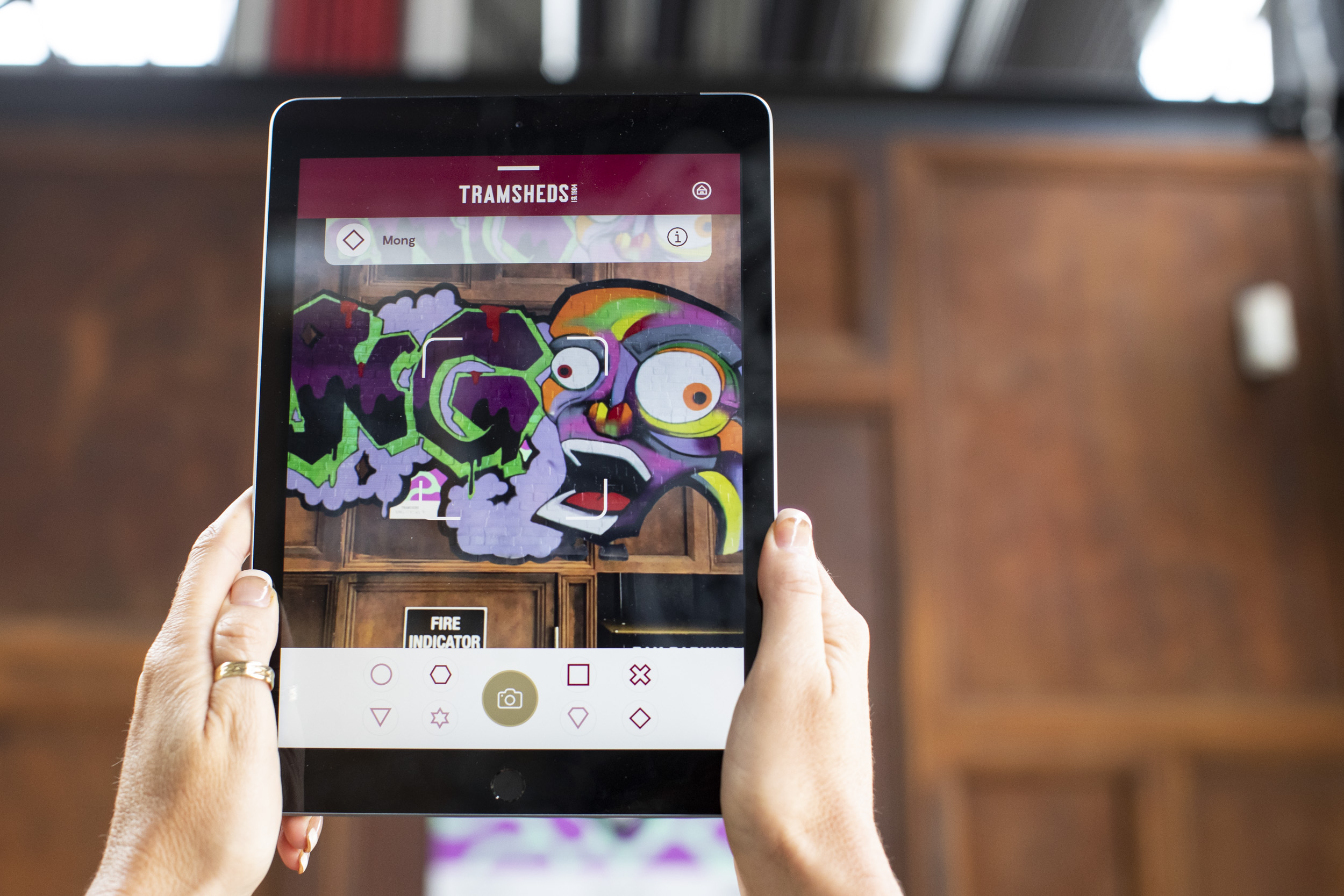 Art Location: Main Entrance, above the Pay Machine
Instagram Handle: @jake_the_mong
Mong (Jake) was a well-known graffiti artist in Sydney. He experimented with a huge variety of styles, ranging from murals to paste-ups, and had some of his work exhibited at Cockatoo Island.

He enjoyed painting at the Rozelle tram sheds on many occasions, as the atmosphere allowed him to try out new ideas in a very diverse space. Many of his pieces at the tram sheds were large and elaborate, something he loved being able to do.

Jake tragically passed away in 2011 and is missed by everyone who knew him, both in life and through his art.
Written by Sars.
--
'Phibs'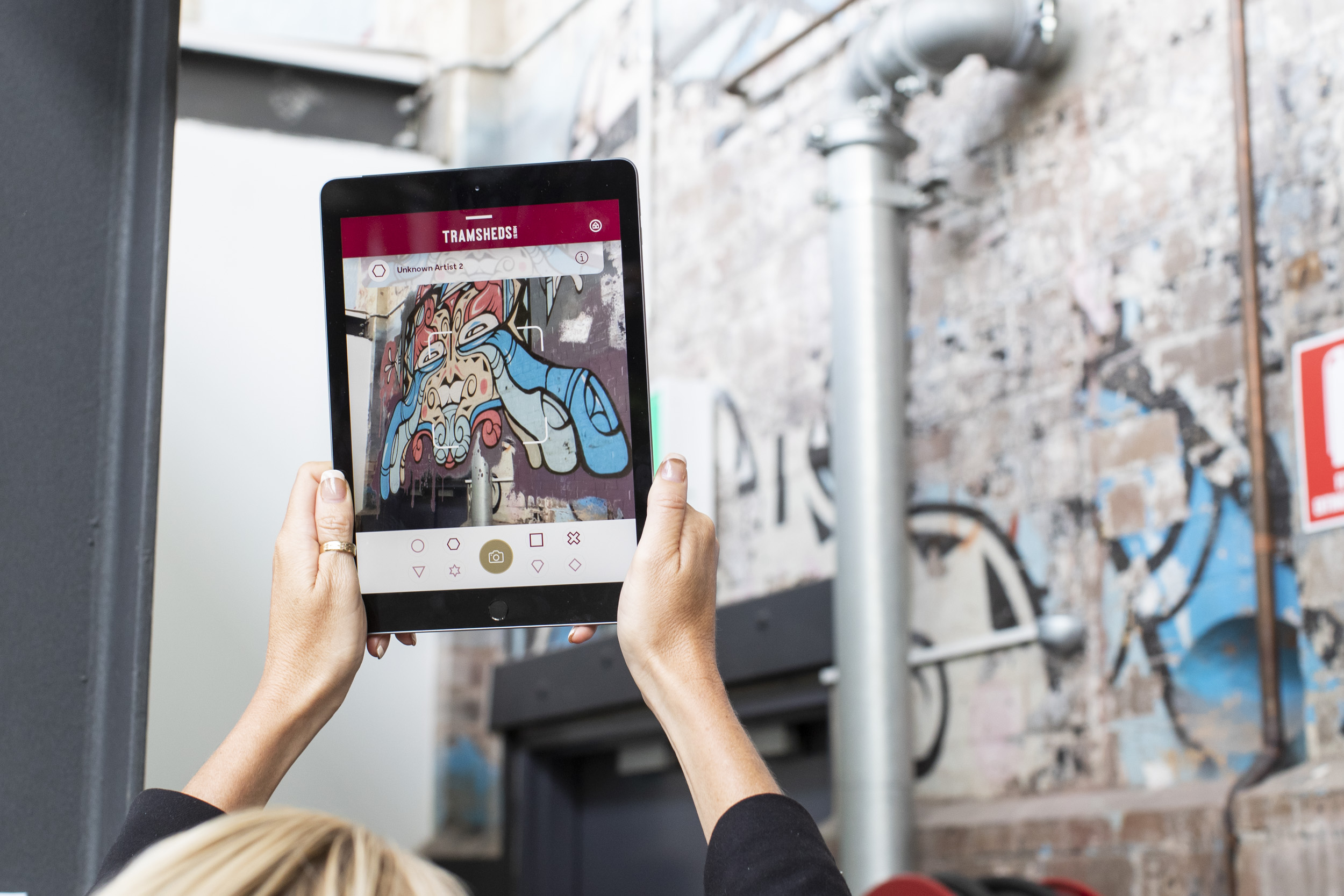 Art Location:Wall between Supamart and Chamber Cellars
Instagram Handle: @phibs_has_instagram
Phibs is one of the most respected and renowned named in Australian Graffiti Art. His public art works are prolific in Melbourne & Sydney and are far-flung across the globe. He has painted so many walls around Fitzroy (an inner suburb of Melbourne), that it has affectionately become known by locals as 'Phibsroy'.

Originally from Sydney, Phibs came from strong graffiti background and was active in community programs, inspiring the artistic potential of this now popular art form. Phibs signifies the symbiotic, engaging the urban with the organic. He produces works across a vast variety of mediums and consistently reflects his own unique realms of symbolism, multiculturalism and mythology. Largely inspired by nature, his works have spawned a menagerie of signature characters.
--
'MEGGS'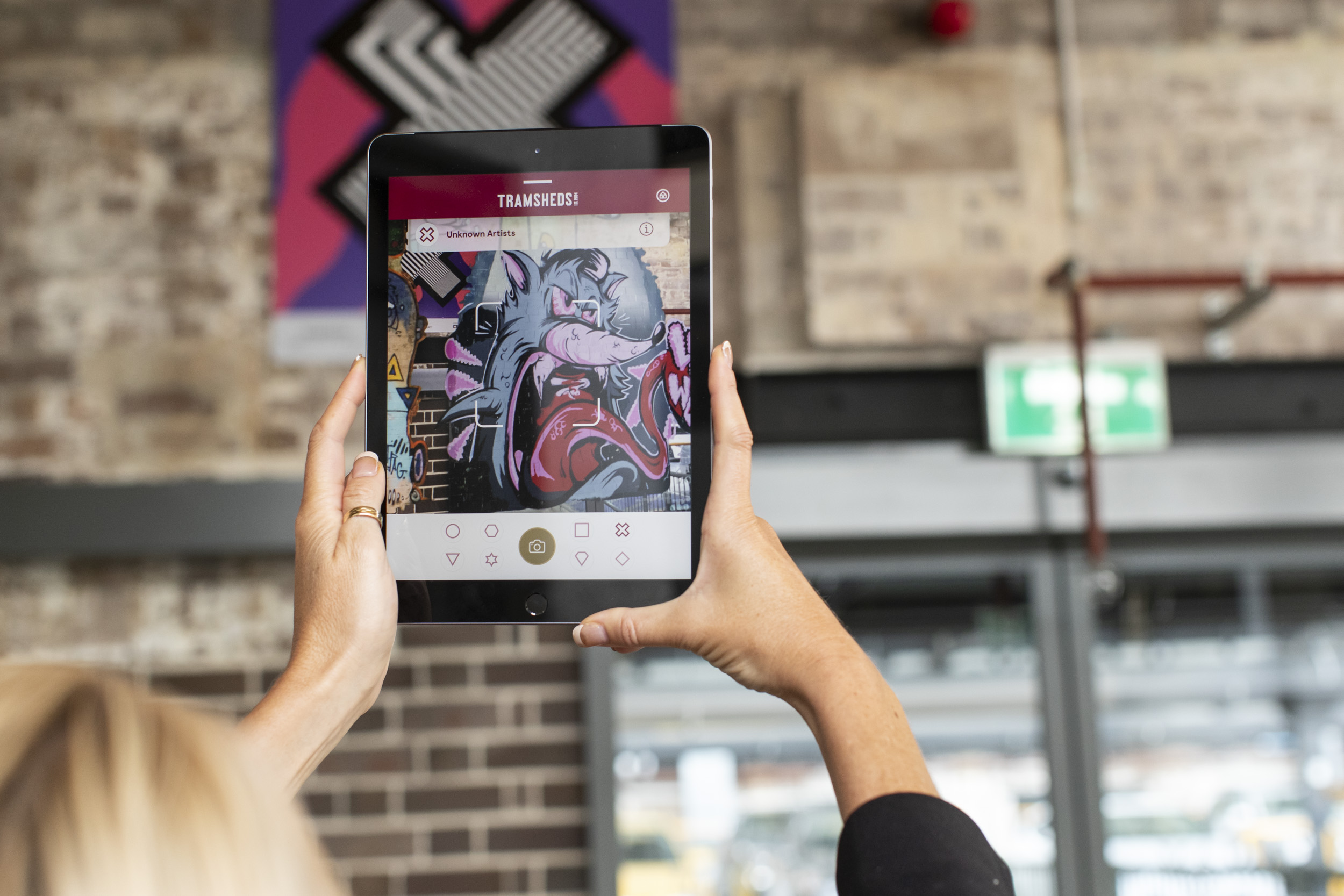 Art Location: Level 2, above the Car Park Auto Doors and opposite the Community Centre
Instagram Handle: @houseofmeggs
David 'MEGGS' Hooke is recognized for his large scale murals and detailed paintings that combine elements of nature, industry and pop-culture with abstraction to create flowing compositions that evoke constant movement and change. His work explores core themes of duality, sustainability and consumerism in an evolving search for harmony between beauty and decay.
Growing up in outer Melbourne, MEGGS graduated with a Bachelor of Design in 2000 and is a founding member of respected street art collective 'Everfresh'. For over 15 years he has travelled internationally, producing public art, exhibitions and volunteering with community organizations.
"Having spent the past 6 six years working in Australia, Los Angeles, Detroit and Hawai'i has given me a broad spectrum of life experiences and relationships, resulting in my work being profoundly affected by the natural Hawai'ian landscapes to the dense urban decline of Detroit, and beyond".
MEGGS has exhibited and produced murals in places such as California, Michigan, London, Tokyo, New Zealand and Mexico. His artworks are included in the permanent paper collections of the National Gallery of Australia, the Victoria & Albert Museum of London and permanent painting collections of the Museum of Art and History, Lancaster CA and the Fort Wayne Museum of Art, IN.
The Mirvac Group (Mirvac Limited and its controlled entities) collects and uses personal information about you to provide you with information you request from Mirvac. Mirvac also uses your personal information for related purposes including to request your feedback on the products and services provided by Mirvac. If you do not provide all the personal information Mirvac requests from you, Mirvac may be unable to provide these products or services to you.
Mirvac may disclose personal information about you to third party agents and service providers to assist Mirvac in the operation of its business to provide the products and services you request. Your personal information may also be disclosed to overseas recipients who use the personal information to assist Mirvac in the operation of its business.
The Mirvac Group Privacy Policy (available on www.mirvac.com) contains information about how you may request access to and correction of personal information Mirvac holds about you, or to make a complaint about an alleged breach of the Australian Privacy Principles.
Promotion of other products and services
By submitting this form, you agree to Mirvac using your personal information to promote its products and services. If you no longer wish to receive promotional information from Mirvac, you may advise Mirvac of your wish. The Mirvac Group Privacy Policy contains information about how you may send your request to Mirvac.